Screen Door and Window Replacement in Los Angeles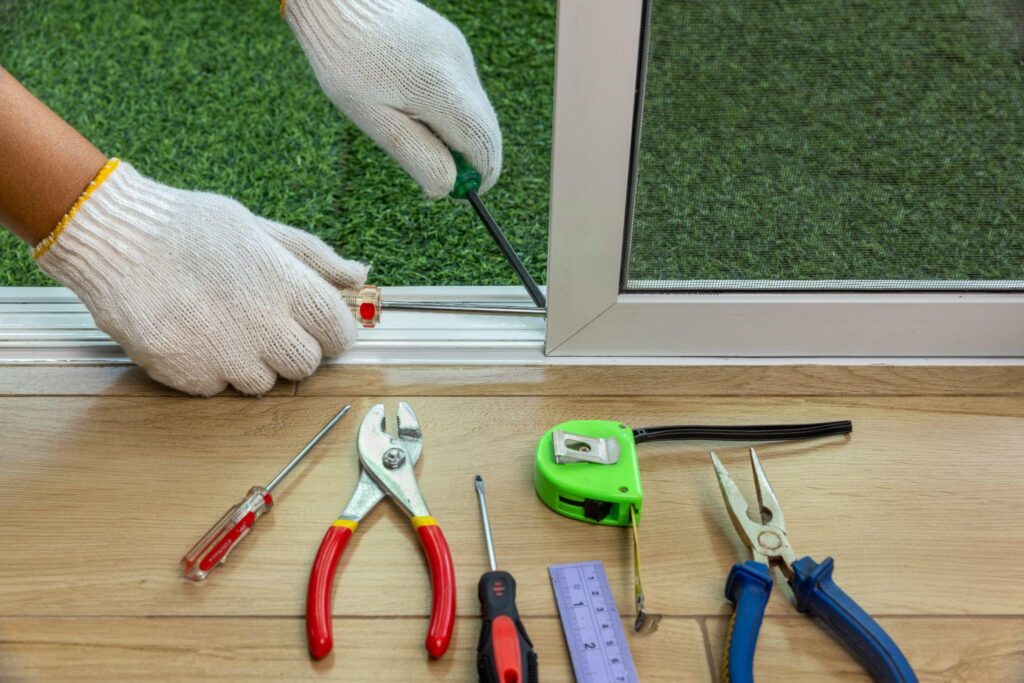 Los Angeles is known for its diverse communities, cuisine, and architecture. It's also known for its year-round mild climate—which can be more fully enjoyed with stylish door and window screens that let in fresh breezes while maintaining privacy and protecting your home from bugs and dust.
At Roy's Screen Service, we use only the highest quality products and materials from the industry's leading manufacturers. Our skilled technicians explain all your options and assist in the decision-making process. You'll also receive a free estimate on our service. We're a complete mobile shop and can provide any installation or repair in a single visit.
Los Angeles Window Screen Services
We're known throughout the Los Angeles area for exceptional window screen service. Our products are custom-designed to meet your needs and frames are available in multiple thicknesses and six stylish colors:
Black
Tan
White
Silver-gray anodized
Adobe
Bronze
Wood window screen frames are available as well, including:
To perfectly complement your home, we also offer five elegant screen colors:
Black
Brown
Gray
Beige
Stucco
We specialize in all different window types. If you need a new or replacement screen, we can accommodate double-hung, arch-top, or sliding windows, as well as patio enclosures.
We also install:
Alarm Screens: Although their mesh looks ordinary, thin wires are woven in and connected to a concealed switch and magnet—sounding an alarm if the screen is opened or removed.
Patio Screens: If there's a hole or tear in your patio screen, we'll fix it quickly and ensure lasting results so you're not bothered by dust, bugs, or debris.
Porch Screens: We'll keep your screened-in porch a safe haven by repairing any holes or tears, preventing water damage, mold, or issues with dust or bugs.
Los Angeles Screen Door Replacement
Screen doors also do a great job at letting in a gentle breeze while keeping out dust, bugs, pests, and contaminants. Our screen doors are also available in silver-gray anodized, bronze, adobe, tan, white, and black. If your screen door can be repaired, our technicians will do it. They can also replace it quickly with minimal inconvenience, starting with an onsite consultation and no-obligation quote.
We offer several types of screen door products, including:
Sliding Screen Doors: Available in our six choices of colors and replaced in one day. We can fix a ripped, torn, or otherwise damaged screen or sliding door frames.
French Doors: We repair french doors by removing your damaged screen, custom-cutting a new one, and reinstalling the screen and door. Or, we can replace yours with a security or pet-resistant model.
Swinging Screen Doors: We install swinging screens for any door in your home. In addition to repairs, we can also provide a similar replacement or an upgrade.
Aluminum Security Doors: Enjoy a fresh breeze and peace of mind with a heavy-duty extruded aluminum Dupli mesh and secure frame. The screen can be customized in any size, color, or screen type.
Choose Roy's Screen Service
A complete mobile shop, we offer a full range of screen fabric choices and window frame options. We can repair or upgrade your door or window screen. Whether you choose screen door or window replacement in Los Angeles, our professionals get it done in one visit. Contact us to schedule your free consultation.