French Doors in Los Angeles
One of the first things people notice about a home are the doors–critical architectural components that testify to the structure's style and those who live within. When it comes to searching for mobile screens and French doors in Los Angeles, buyers have many options to choose from that will accommodate all commercial and residential architectural styles. Here in the City of Angels, you can find everything from French doors that pair well with elegant Victorian homes, to minimalist French doors that match the sleek modern mid-century houses of West Hollywood, to French doors that blend in with Tuscan domiciles that sport a distinct Mediterranean influence. You can also buy French doors in LA that go well with American Craftsman, Mission Revival, and Colonial styles—and that's not even a complete list.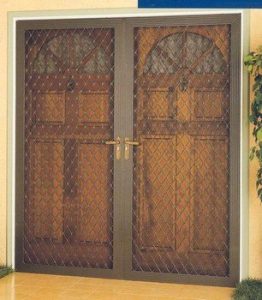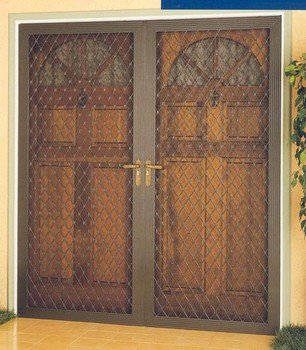 One thing that all these residential styles have in common, however, is that French doors work well with them. In fact, French doors can complement nearly any kind of house, from the traditional to the modern. That's why so many homes in L.A. are outfitted with one or more types of French doors.
These days, French screen doors are an increasingly popular option among Los Angelenos who are looking for a stylish, energy-efficient addition to their homes. The team of installation and repair experts at Roy's Screen Service is available to help residents of this sunny region enjoy the benefits of French doors with screens at affordable prices.
The Best French Doors Los Angeles Has to Offer Are at Roy's Screen
L.A. is a lively town whose residents tend to take special pride in their homesteads. Unlike New York City, where everyone seems to be crammed into overpriced apartments, Los Angeles has a broad variety of lovely homes of all shapes, sizes, and styles. Take a trip through this town of almost four million residents and you'll see all sorts of colorful houses, from Malibu to Sherman Oaks.
It's a busy, bustling city—and also a crowded one, as anyone who has ever spent time on the I-405 Freeway will be able to tell you. This is a 24/7 town where the residents often find themselves wishing there were more hours in the day (and night) so they can do all the things that need to get done. 
People often feel that they don't have the time they need to give their home the kind of TLC needed to make it really special. Giving the home an upgrade is the kind of task that, in many cases, keeps getting delayed to a future date that never seems to arrive.
Fortunately, all these busy people have a helpful ally in their corner: Roy's Screen Service. We travel all over the area to install high-quality French screen doors in our customers' homes and businesses. That means you don't need to waste time sitting on the freeway while traveling from one door company in Los Angeles to the next in search of the ideal French door. We have everything you want—and we'll deliver it straight to your address and even install it for you. Our service area covers West Los Angeles and the South Bay. Quite a few French doors in Los Angeles were installed by our technicians. 
What Are French Doors?
French doors are two (usually) identical doors that each have a long rectangular window panel running down most of its length. Often, the window panel holds a pane of glass that is divided by bars (called mullions) into four to eight more smaller panels (called lites). However, exterior French doors with screens are becoming more and more popular—this is the option we offer at Roy's Screen Service.
The handles of the twin doors are positioned close to each other in the center. And when asking, what are French doors, you might sometimes hear them referred to as swinging patio doors because they are often set up in that area, but they can also be installed in a doorway that opens into a garden or practically any other exterior area of the property as well. They can be set up to open inward or outward, although it's important that no architectural elements be present that might interfere with the swinging of the doors.
French doors have a long and colorful history. As you might expect, they trace their origins to France, specifically the 17th century. It's worth pointing out, however, that these elegant doors were influenced by trends in the Renaissance architecture that had developed in neighboring Italy. 
France, who had been heavily involved in the Great Wars of Italy of the early part of the 16th century, became exposed to the architectural ideas that the Italians had embraced. These ideas included an emphasis on symmetrical designs and the widespread use of windows.
French doors quickly earned a reputation for their visually pleasing style. They also allowed homes and buildings to permit sunlight to enter the premises and illuminate the area—a valuable asset in an era without electric lighting.
The earliest French doors were made of wood. Later, wrought iron was introduced into the design to add style. The development of glassmaking brought further innovations to the French door, enabling glass windows to be embedded in the frame. Manufacturers began making doors with multiple glass windows divided by mullions.
Traditionally, French doors were used in the exterior of homes as well as the interior, giving people a convenient view of the sights on the other side of the doors.
Today, French doors have spread far beyond France and can be found throughout America, on a wide range of homes. French doors in Los Angeles will surely remain a common sight for years to come as more and more people discover the advantages they offer. 
The Benefits of French Doors with Screens
So why should you install exterior French screen doors at your residence? Why not just choose sliding patio doors or another option? Because our French doors with screens offer several advantages that may not be present with alternative types of doors. These benefits include:
Fresh air – These kinds of doors allow air to enter and circulate throughout your home. You don't even need to open the door—the screen will permit airflow to enter while also blocking insects and other pests. Or if you like, you can open both doors or just one. You always have plenty of airflow options when it comes to French doors.
A view of the outdoors – French doors have the effect of "opening up" your living space even when they're closed. Unlike a solid door, they enable you to see the sights of the outdoors, all while keeping the door shut. They also bring in a lot of natural light when the sun is out. But what if you want to keep out harsh sunlight? Our SunTex screens filter out 90% of solar heat and glare but still let the home breathe.
Improved energy efficiency – Whether you want to let some of that noonday sunlight in or enjoy an evening chill, French doors give you more options when it comes to controlling the temperature of your home. This takes some of the pressure off your HVAC equipment—which translates into lower energy bills.
Increased home market value – French doors are stylish and widely valued, so a home outfitted with them is likely to fetch a higher price on the marketplace.
Security – Screens tend to be more effective than glass for keeping out trespassers. Our aluminum mesh screens stop would-be intruders in their tracks without interrupting airflow.
Plenty of options – You can select from a wide spectrum of colors, styles, and shapes to suit your tastes and your architectural requirements.
Ease of installation – Due to the swinging design, French doors can slot into any part of the home without any extra space requirements. They work wonderfully even in cases where there might not be room for a sliding door, such as at the back or side of the home, or connected to the patio.
French doors provide your home with many lifestyle benefits at a reasonable price. 
Exterior French Doors That Are Customizable to Any Home
When you work with Roy's Screen Service, you're partnering with a reliable, experienced door company in Los Angeles that knows how to give customers exactly what they want. That means you aren't stuck with a limited range of standard options to choose from. We customize your installation to your preferences. Even if you have an unusual request or a difficult installation issue, we'll figure out a solution that you'll be happy with.
Every home is unique, and you're always in the driver's seat when it comes to how your exterior French doors with screens will look. No matter what dimensions or color you need, we can help. With a free in-home consultation, our experienced team will walk you through your customization options and find a solution you'll love at a price that matches your budget.
We do more than just install exterior French doors with screens. Roy's Screen Service also repairs existing French doors of all types, including wooden doors. If you've got a problem with your French screen door, the first thing you should do is pick up the phone and call Roy's Screen Service. Highly affordable and always reliable, our technicians will replace or repair the screen as quickly as possible, making sure you're not without protection for long.
We've been in business since 1982, and there are few installation or repair challenges that we haven't seen. We've installed countless French doors in Los Angeles. And we'll perform our duties at a price that won't bust your bank account.
Homeowners in West Los Angeles and the South Bay are welcome to contact Roy's Screen Service to begin the process of upgrading their homes with high-quality, dependable French screen doors. See for yourself why we're the leading door company in Los Angeles.