HINGE SWINGING SCREEN DOORS

Silver Gray
Anodized

Adobe

Bronze

Black

Tan

White
3/4 x 2 1/4 x.055 Gauge Extruded Frame
Extruded corners, locks with 4 screws per corners
12″ .038 Diamond-Embossed Kickplate
(3) – 1″ Extruded Push Bars
(3) – Oilite-bearing Hinges riveted to Channel
1 3/4 side and bottom adjustment channels
Fiberglass screening, gray or charcoal color
Aluminum Screen Material – Silver or Black
Sunshade Screen – Gray or Charcoal
Suntex Screen 80% – Blocks up to 80% of the sun's heat and glare
Suntex Screen 90% – Blocks up to 90% of the sun's heat and glare
Both Suntex Screens come in 5 different colors: Black, Gray, Brown, Stucco or Beige
Pet Screen – Black or Gray (7-times stronger than regular screen)
SINGLE DOORS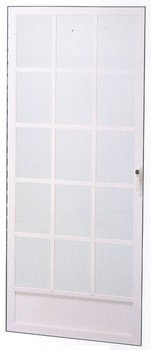 6500- Cape Cod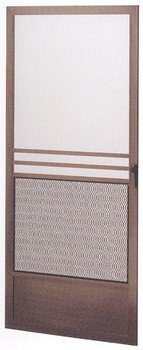 3500 – Montego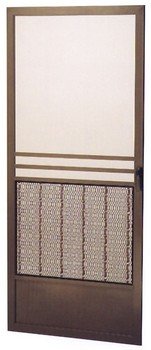 9300 – La Jolla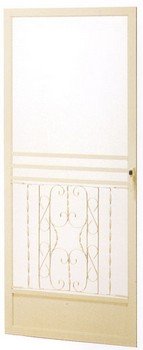 4000 – Pueblo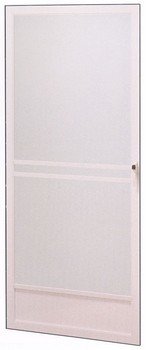 6000 – Model E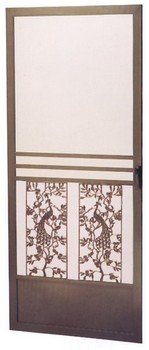 3900 – El Dorado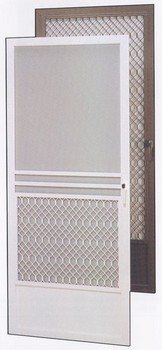 4400 – Protecto (front image) 4800 – Protecto Full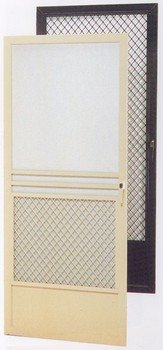 6700 – Santa Fe (front image) 6800 – Santa Fe Full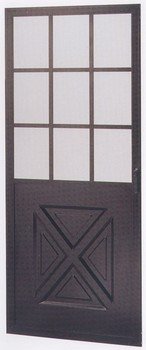 6600 – Heritage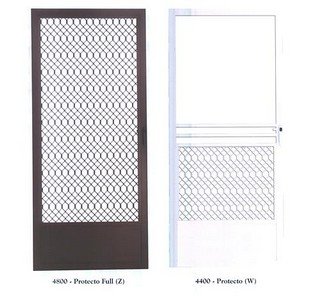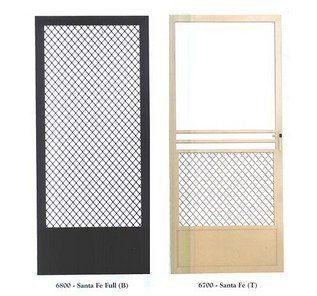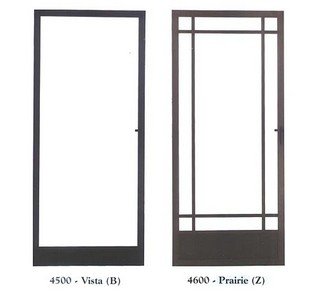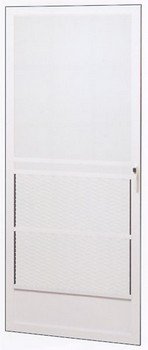 6100 – Oasis
FRENCH DOORS
All of our screen doors can be made in Double Units, in all of our colors and in special sizes.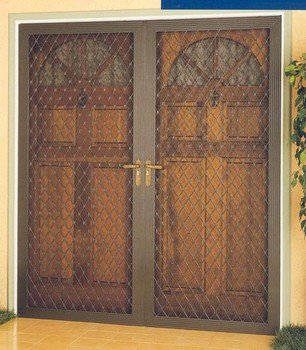 Sentry Security French Doors
Model E French Doors
ALUMINUM SECURITY DOOR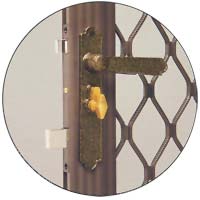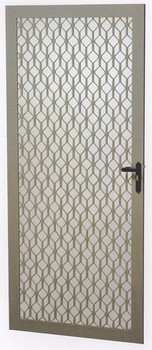 5000 – Gilbraltar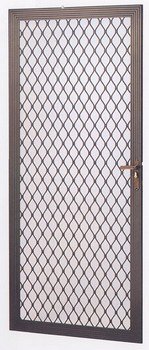 4900 – Sentry
When you're looking for screen doors for your home, you may consider size, material and color. But the door's operation can make a big difference to the value you'll get from your investment. A hinge swinging screen door replacement can be just what you need.
Suitable for High Traffic Areas
If your home sees a lot of foot traffic, a hinge swinging screen door can make a big difference. Plus, you don't have to worry that this kind of door will be left open. Thanks to the hinge operation, the swinging screen door will always return to its closed position.
Easy Operation
There's no denying that a hinged screen door is incredibly easy to use. This makes it a great choice for any home. The effortless operation of a hinge swinging screen door means that individuals of all ages and abilities can enter and exit with ease.
Lightweight
A big contributor to the easy operation of a swinging screen door is the fact that it is so lightweight. So when you're returning home with armloads of purchases and there's no one home, you can get everything inside with very little effort.
Lets in What You Want, Keeps Out What You Don't
Your home's front door was built for security, but when it comes to natural light, not so much. Enter the swinging screen door, which allows you to take advantage of fresh air and natural light. Plus, it will keep unwanted critters out while keeping your household critters in.
Completely Customizable
You're never stuck with limited options where it comes to swinging screen doors. Today's doors offer a wide range of customizable options. Choose from a great selection of screen colors, door materials, and designs.You can even have a security screen installed in your door for that extra level of protection.
Maintenance Is a Breeze
Whether the screen is broken, the alignment is off, or something else just isn't right with your hinged swinging screen door, you can always know that it will be easy to maintain. And if you can't or would rather not do it yourself, help is available.
Professional Hinge Swinging Screen Door Replacement, Installation and Repair
Living in LA means having a screen door that checks all the boxes. And when homeowners need swinging screen door replacement in LA or need them repaired, they call Roy's Screen Service. Find the perfect match for your home with our selection of top-quality hinge swinging screen doors. Need your swinging or sliding screen door replaced or repaired? No problem—our experts ensure the complete and professional replacement or repair of all types of door screens and mechanisms. And if you want something that's all your own, simply let us know. Our expert team will work with you to design the custom screens you've been dreaming of. Not sure which screen door is right for you? We're always here to help if you need professional advice. Just
contact us
today!