Retractable Screen Doors
If you are looking for high-quality retractable screen door installation, Roy's Screen Service provides the highest-quality door screens and service in Southern California. Retractable screens prevent bugs and other critters from entering your home—but, if you prefer, they can easily be hidden out of sight by sliding them open.
Retractable Screens vs. Traditional Screens
A fixed flat screen can provide the protection you need, but it doesn't include that many options. With a retractable door screen, you have much more design and installation flexibility. You can slide it open for a clear view or keep a door open and get a fresh breeze without letting unwanted critters in. Best of all, retractable screens can be customized to any size, so they'll fit any type of door in your home.
Types of Retractable Screen Doors
We install any type of retractable screen door. Whether you want a French screen door, with the benefit of airflow control, or a different type of retractable sliding screen door, retractable garage door screen, or storm door with a retractable screen, our installers can work with you. A wide range of styles, sizes, and colors are available (including white, black, and many shades of gray). We also offer more durable aluminum mesh screens and sunlight-, glare-, and solar-heat-blocking screens. Mesh can even be made to resemble wood grains, and we offer several different varieties.
Retractable Screen Installation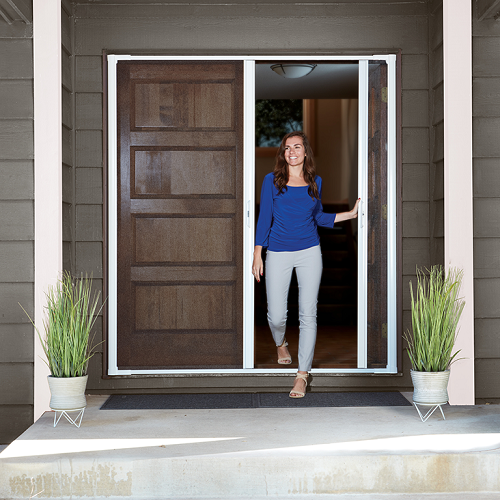 A retractable double screen door, or a single version, can be installed at your entryway or near your backyard, patio, or pool deck. Before installing your screen door, we'll measure the space to perfectly size it, providing a perfect fit for your home. Our professional installers have the expertise and tools to get the job done quickly and ensure quality results and satisfaction. We use only the highest quality products and materials while offering competitive pricing.
Schedule a Free Consultation Today
Roy's Screen Service provides retractable screen door installation and repair across West Los Angeles, Malibu, Santa Monica, Inglewood, Manhattan Beach, and Torrance. Customers prefer us for our quality workmanship, fast same-day service, and attention to detail. Custom jobs are completed in a single visit. For a free, no-obligation estimate, call 310-276-7360 or send us a message online; also, check out our discounts and deals to save.